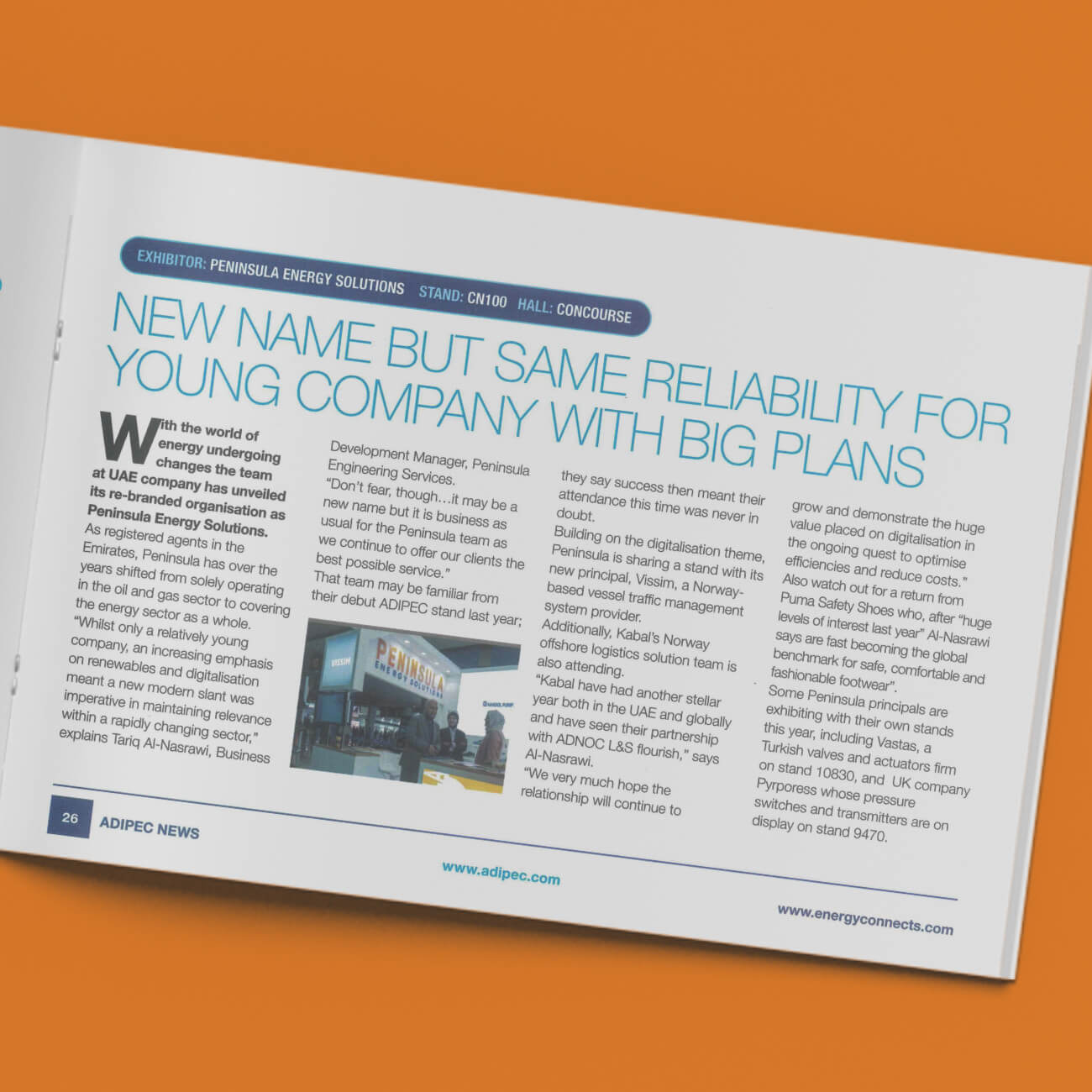 NEW NAME BUT SAME RELIABILITY FOR YOUNG COMPANY WITH BIG PLANS
EXHIBITOR: PENINSULA ENERGY SOLUTIONS STAND: CN100 HALL: CONCOURSE
With the world of energy undergoing changes, the team at UAE company has unveiled its re-branded organisation as Peninsula Energy Solutions.
As registered agents in the Emirates, Peninsula has over the years shifted from solely operating in the oil and gas sector to covering the energy sector as a whole.
"Whilst only a relatively young company, an increasing emphasis on renewables and digitalisation meant a new modern slant was imperative in maintaining relevance within a rapidly changing sector," explains Tariq Al-Nasrawi, Business Development Manager, Peninsula Engineering Services.
"Don't fear, though…it may be a new name but it is business as usual for the Peninsula team as we continue to offer our clients the best possible service."
That team may be familiar from their debut ADIPEC stand last year; they say success then meant their attendance this time was never in doubt.
Building on the digitalisation theme, Peninsula shares a stand with its new principal, Vissim, a Norway-based vessel traffic management system provider.
Additionally, Kabal's Norway offshore logistics solution team is also attending.
"Kabal has had another stellar year both in the UAE and globally and have seen their partnership with ADNOC L&S flourish," says Al-Nasrawi.
"We very much hope the relationship will continue to grow and demonstrate the huge value placed on digitalisation in the ongoing quest to optimise efficiencies and reduce costs."
Also watch out for a return from Puma Safety Shoes who, after "huge levels of interest last year" Al-Nasrawi says are fast becoming the global benchmark for safe, comfortable, and fashionable footwear".
Some Peninsula principals are exhibiting with their own stands this year, including Vastas, a Turkish valves and actuators firm on stand 10830, and UK company Pyrporess whose pressure switches and transmitters are on display on stand 9470.